Client: Center for the Collaborative Classroom
Category: Educational Publishing
Scope: brand strategy, brand identity, messaging, print collateral
Project Objectives: Following an organizational rebrand, Collaborative Classroom's marketing collateral needed a refresh to incorporate updated branding, graphical treatments, and photo styles to more effectively communicate the importance of collaboration and community in classrooms. The organization had previously suffered from a lack of clear, concise messaging. More accurately, they suffered from having too many competing, yet vaguely similar messages. A concerted effort was made to wrangle all into the newly-minted "Learning Reimagined" tagline with a more focused message. The organization needed to evolve its collateral to create more brand awareness, but not to completely start over.
Berta worked closely with the VP of Marketing on the direction and messaging (working with a branding messaging professional) to reinvent the Collaborative Classroom both visually and verbally. Below is just a small sampling of the materials redesigned with a newly refreshed look and feel. These materials have helped support the field team in generating $25M in sales and reaching over 7M teachers and students nationwide.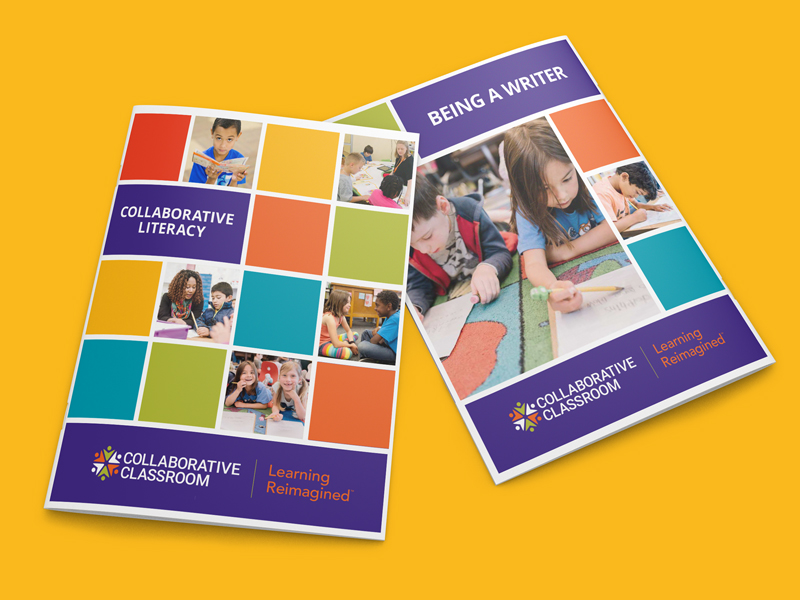 'Berta's Role
For this project, 'Berta:
worked closely with the newly hired VP of Marketing to craft flexible, visually compelling collateral, leveraging her previous designs, that could easily work with new messaging.
versioned all the new marketing collateral on a greatly compressed time schedule, even though the new messaging hadn't been totally flushed out yet.
provided wireframes to outside coders to bring emails, landing pages, event registration pages, and other online platforms in line with the new look and feel—a piece that had been neglected in the past. Previously, the events team had just used the vanilla standard layouts that came with the services.
became more directly involved in marketing strategy.