Tune in for plenty of adventure as 'Berta—armed with her trusty sketch pad and sharp creative wits—joins forces with your team to brand and promote your products in a consistent and thoughtful way.
'Berta is an award-winning full-service Creative Director with 25+ years of experience (read 'street cred') with a long and diverse career. A small-town gal turned big-city creative, she started out in advertising and boutique design in Dallas, TX, she then found her way to the City of Light, Paris, and ended up leaving her heart in San Francisco.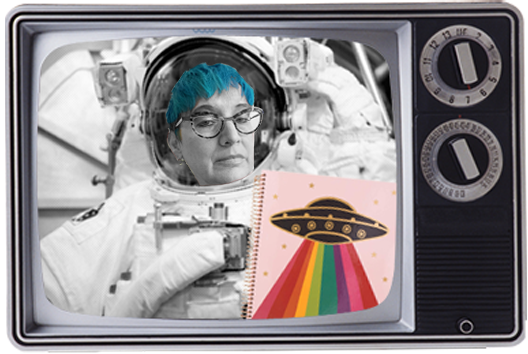 A true partner and collaborator
Where design meets strategy, 'Berta brings extensive experience to every mission. She listens and works closely with you to create high-impact, space-age strategy and design solutions that meet (and exceed) your needs and expectations. Her clients feel heard and that they have shared ownership of the process. As a result, the brand work genuinely reflects who they really are.
She's worked agency-side and in-house for a wide range of clients from solopreneurs and nonprofits to Fortune 500 and 1000 companies, including: AssetMark, Bordeaux Kitchen Naturals, Building Bridges Together, Cadbury-7/UP, Career Girls, Chevron, Collaborative Classroom, College Track, Dallas Museum of Art, Galleria, Gap/Old Navy, The Integer Group (Omnicom), Jose Cuervo, Latitude (Richard's Group), Launch Partnership, Lawrence Berkeley Lab, Lob, Marcus&Millichap, McCann-Erickson, National Geographic, Pottery Barn, Safeway.com, San Francisco Historical Society, 7-Eleven, Inc., Texas Instruments, and Thanx, just to name a few.
From sketch pad to launch pad
Awards & Recognition Include:
Membership in the Female Founder Collective
Graphic Design USA 2020 American Graphic Design Awards for book design and packaging
2020 Royal Dragonfly Book Award: First Place, Young Adult Nonfiction
2020 Purple Dragonfly Book Award: Honorable Mention, Children's Nonfiction
2018 Aquent Designing for Good Grant Recipient, Career Girls Mobile App
Publishing Professionals Network Annual Book Show Award, Collaborative Literacy
Graphic Design USA In-house Design Awards
Association of Educational Publishers, Distinguished Achievement, Collaborative Literacy
Association of Educational Publishers, Beacon Award, AfterSchool KidzScience
Topps Award Show
Art Director's Club of Houston Show Gold Award
Dallas Society of Visual Communication Exhibition
Texas Association of Museums Gold Award

What does 'Berta do in her free time?
'Berta enjoys giving back to the community by using her design powers for good. She regularly volunteers for organizations such as Career Girls and Taproot Foundation. She also enjoys blogging about all things colorful and creative. Check out her Martini Minute musings.
When she's not designing something, 'Berta pursues other interests such as: world travel, fine art, crochet, science, history, reading, writing, gardening, adventurous cuisine, artisanal coffee, karaoke, and cats.