Loving Memories, the Petersen family autobiography, chronicles the lives of Charles and Mildred Petersen from their respective points of view. The book recounts how both of their families immigrated to the United States, built their businesses and tended their farms—fulfilling the American dream. The book also tells the story of how Charles (a self-made business man) and Mildred (his devoted wife and life partner) fell in love at the tender age of 14, persevered through WWII and other life challenges, flourished, and raised their four children—who now have children and grandchildren of their own. This story is one of loving memories and life-long companionship.
Charles had always planned to write a memoir one day, but never completed it before he died unexpectedly. The project was taken on by their daughter Pam, and is especially poignant as Mildred was able to read and enjoy the book—the fruition of many years of planning and writing—before her passing about a year later.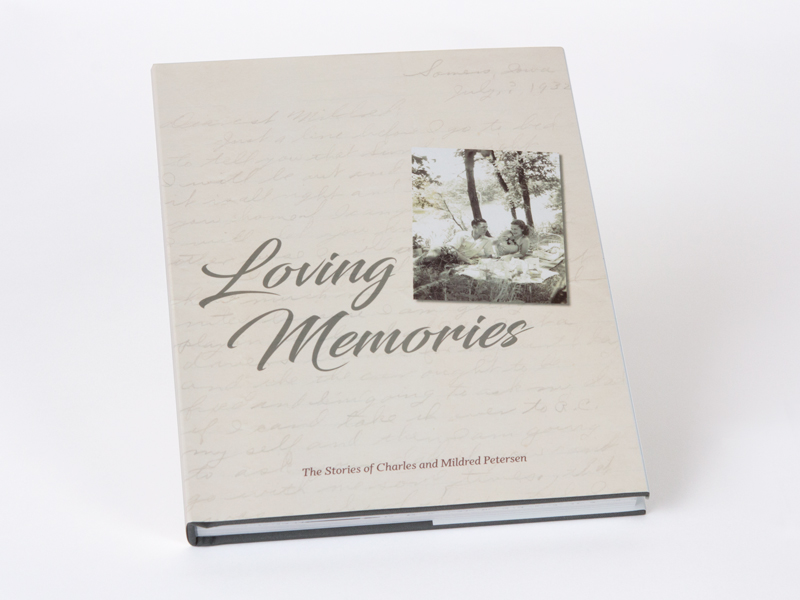 'Berta's Role
'Berta worked directly with the author, the Petersen couple's daughter Pam, to conceptualize and design the family autobiography. Throughout the project, 'Berta:
Worked closely with the author on the conceptualization and design of the book from cover to cover to portray the Petersen couple's family history in an accurate and thoughtful way, picking up the baton from her father, Charles.
Did extensive digital restoration of old, damaged photographs.
Designed the text written and photographs chosen by the author to best reflect the subject of each chapter.
Commissioned illustrations, as needed, to add interest to the story.
Helped curate the text and images that would appear in the book to keep the story moving, and to present the most important moments of the Petersens' lives.
Coordinated the printing and delivery of the books.
Results
The completed book was printed in hard copy with a dust jacket, and presented to family members at a big family reunion gathering, in time for Mildred to read and enjoy the book and see its completion. Mildred, and the entire family were appreciative of the effort and now have a keepsake of their family history.